Should Costing. What is it?
Should Costing is a process, whereby one can determine the cost of the part or product, based on the raw materials used, manufacturing costs and overhead production costs.
This can be achieved by analyzing the engineering models to understand the raw material required, defining the manufacturing processes required to deliver the required form features, and calculating the total costs through the use of rate data related to material costs and processing costs.
The ultimate goal of any should cost analysis initiative is to provide enough information as to enable (depending on the stage) designers to modify raw material or form feature requirements, or enable suppliers to modify manufacturing processes with a view to reduce costs.  Should costing, thus, provide a framework that enables a systematic focus on opportunities to reduce costs right from the conceptualization stage through the production life of the product.
Objectives of Should Costing
There are many possible uses of Should Costing of which I would like to mention 6:
To Estimate Unit Cost of Product and provide cost breakdown.
NPI cost optimization through identification of key cost drivers at early design stage.
Generate ideas for cost reduction opportunities (DFx) .
Evaluate cost impact of Design alternatives.
Evaluate cost impact of Manufacturing alternatives .
To Identify overpriced components and to assist in vendor negotiation to  bring the cost down.
Need for Should Costing
Why we need Should Costing? To request this question we need to ask a few other questions, such as these who you can see on the left side of figure 1.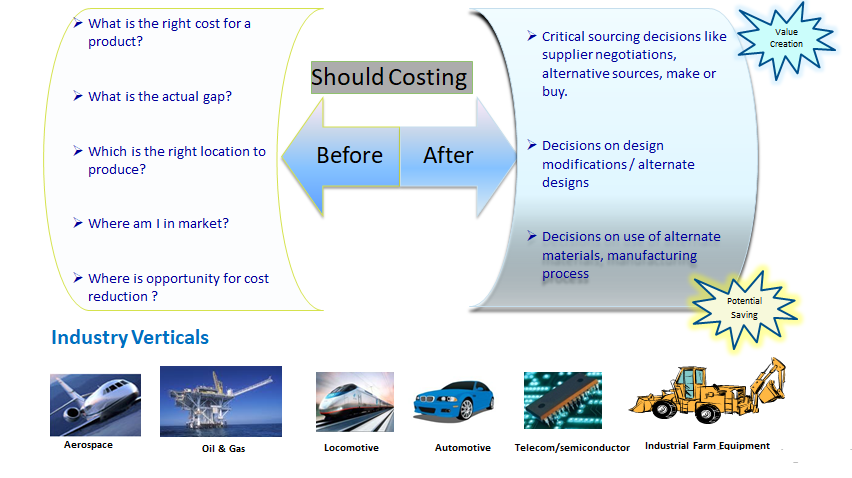 Figure 1: Questions to which Should Costing provides an answer
If you had one of these or you find another question. Should Costing delivers the answer. Formerly there are a lot of questions but no progress. After using Should Costing you have created value and saved potentials as you can see on the right side of figure one.
And you can use Should Costing for absolutely any product or service.
Our Objective
To find the Should cost of the part shown below using DFMA (Boothroyd Dewhurst) Costing tool and value additions.
Every cost calculation follows a clear system. At the beginning the existing input data are listed.
Input Data
| | |
| --- | --- |
|   Estimated Annual Usage (EAU) of the part | 704 |
|   Batch sizes of the part currently ordered in | 25, 50 |
|   Current piece part price | $122.84 |
|   Current material being used | Aluminum |
|    Current processing method | Extrusion, Machining, Welding, Epoxy. |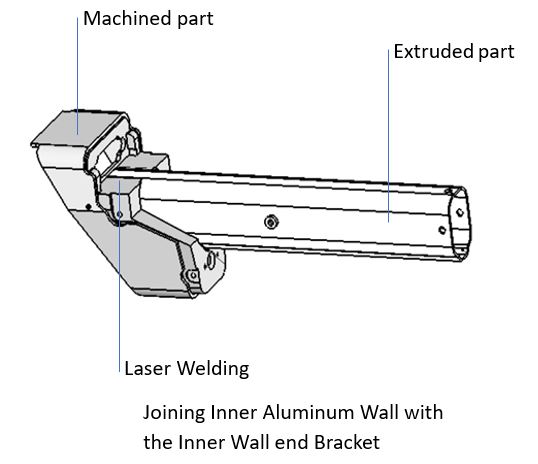 Should Costing Approach
Systematic costing procedure used to determine what a component ought to cost, assuming reasonably attainable economy and efficiency in the contractor's operation.
You can see in figure 2 that the system is always the same for each Should Costing calculation. We start with the determination of the material costs (MTRL). This is followed by the production costs (MFG). Then the overhead (OH) is calculated and the material and manufacturing costs, also called the cost of goods manufactured, are added. After we have added the costs for rejects and pack & ship we put on the profit position and get the Should Costs out.

There are certain prerequisites for Should-cost analysis and based on these available information, one can make an accurate estimation. To start with, one should have a good understanding of the product and the processes required to produce the part or assembly from the raw material stage, adhering to quality and compliance requirements. The level of accuracy depends on the skill and knowledge of the individual who builds the cost model. This activity is quite challenging for a buyer but relatively easier for an engineer as he is the brain behind the product's design. However, engineers may not have the detailed costing knowledge of various secondary processes like heat treatment, plating, welding, which probably are outsourced. This is the area where Should-cost modeling software will help designers/engineers to estimate the complete cost of the product with end to end costing. The chart below depicts the Should-cost approach, which has to be followed to make an accurate estimation of the product cost
In figure 3 you can see a Should Costing approach from practice. Each step is explained in brief below.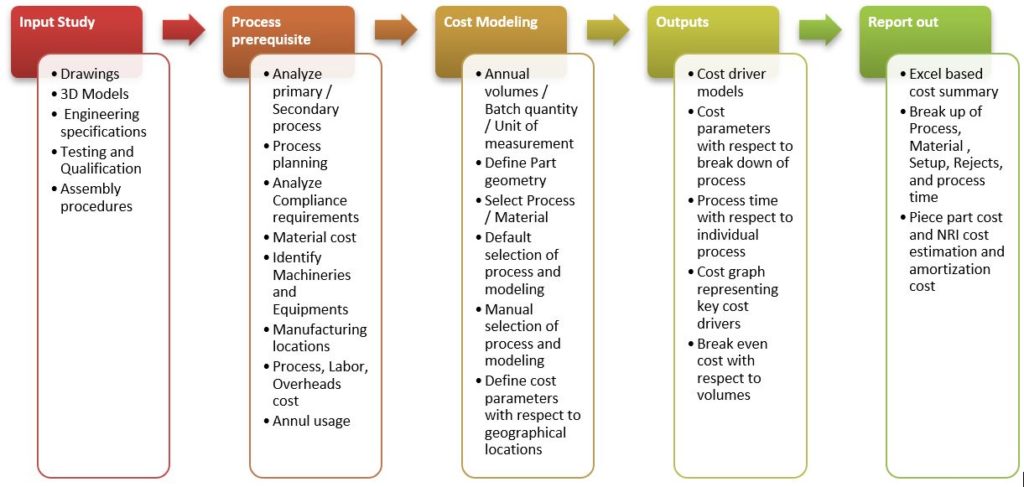 Inputs:
Component drawing, Assembly drawing, Currently used material.
Function of part.
Preferred materials for study (if any).
Reliability conditions for material selection and design.
Annual volume of part (for evaluation of process cost).
Task Execution:
Application of DFMA methodology and principles
Identify the areas of cost reduction in manufacturing process using "Boothroyd Dewhurst" tool.
Suggest ideal materials based on reliability requirements using CES tool.
Simplification of the product's design.
Performance check of each of the suggested material along with the current.
Necessary evaluation after improvement is carried out in "Boothroyd Dewhurst" tool to find the change in should cost of the product.
Solution:
Complete break up of Product cost viz. material cost, process cost, tooling cost, labor cost, rejection cost.
Comparison of cost break with suggested materials and their individual contributing factors.
Comparison of the performance of the component vs. different materials.
Reliability evaluation based on boundary considerations and benchmarking
Customization by approaching advanced manufacturing process and materials in Boothroyd
Evaluation of each material by weighted ranking based on various contributing factors using Pugh matrix benchmarking current.
Value Addition:
Reliability evaluation
Suggested design changes driven by reliability criteria.
Lean manufacturing methods.
Material suggestion benchmarking current driven by reliability criteria's.
DFMA (Boothroyd Dewhurst) Costing Tool:
DFMA stands for Design for Manufacture and Assembly. DFMA is the combination of two methodologies; Design for Manufacture, which means the design for ease of manufacture of the parts that will form a product, and Design for Assembly, which means the design of the product for ease of assembly.
DFMA is the name of the integrated set of software products from Boothroyd Dewhurst, Inc. that are used by companies to implement the DFMA methodology. DFMA is a registered trademark of Boothroyd Dewhurst, Inc.
DFM Software Capabilities:
The software offers different major manufacturing cost models like Assembly Fabrication, Automatic Assembly, Blow Molding, Die Casting, Plastic Extrusion, Hot Forging, Injection Molding, Investment Casting, Machining, PCBA, Sand Casting, Sheet Metal, Foam Molding, Thermoforming, Custom User Processes. And many others fully included.
Fully Populated Operations, Machine, and Material Libraries.
Cost Breakdown, Cost vs. Life Volume Graphs.
Machining Quick Estimator.
Get an accurate result in minutes.
Manufacturing Profiles.
Compare costs across different regions or suppliers.
On Context Help System.
Integrated CAD Support.
Select features directly from the model.
STL, STEP, IGES Formats.
Further details about DFMA tool can be accessed using www.dfma.com
Should Cost using DFMA Tool
Back to our practical example from figure 2. You can see the Cost Breakdown of our example part in Figure 4.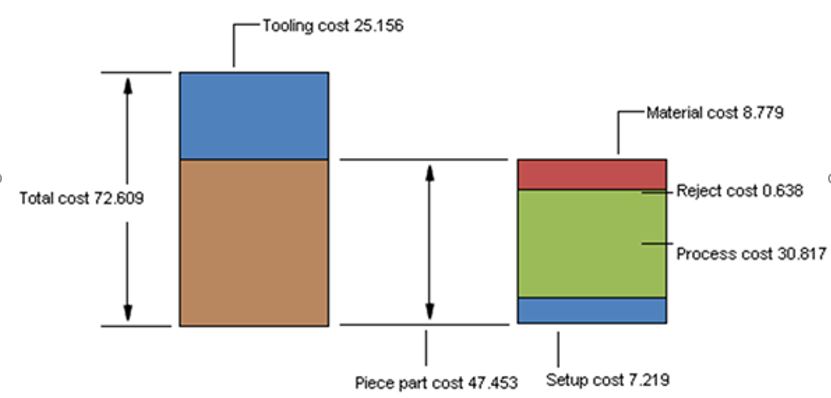 The current method of Laser Welding used for joining Inner Aluminum Wall with the Inner Wall end Bracket involves high process cost of $47.453.
Value Addition Opportunities
The next step is to identify major cost drivers from the graph shown in figure 5 below. The graph clearly explains about cost variation for different material & process.

Integrating all the three parts as a single injection molded component  by using Polycarbonate as an alternate material would eliminate secondary operations viz. Welding, Plating , Machining , Assembly time & labor.
This reduces the material cost and process time and would be the best cost out opportunity provided redesign is necessary.
Conclusion
Should Costing provides the basis for continuous cost reduction and waste elimination.
This also leverages the ability to formulate the best economies of scale from a cost view point, which can be used to leverage a 'best price' in the negotiation process.
An effective should cost model eventually arms the organization with the information required
to make the right decisions earlier in the design cycle, where such decisions can potentially have a greater impact.